No Valentine's date? No problem. We've got you covered! Break out that bottle of wine and green tea ice cream and prepare for an epic night of nerdy feels. Is green tea ice cream just me??
Anyway! Here are 7 nerdy romantic episodes to keep you company this Valentine's Day. Indulge responsibly:
Neo Yokio Ep. 101 "The Sea Beneath 14th St."
With a scene that introduces our main character, Kaz Kaan (Jaden Smith), mourning the loss of his relationship, this episode is perfect for those of us, nerds going through heartbreak.  From the tossing of a Cartier watch to literally visiting his own grave, this dude is hopelessly depressed and I freaking love it.
Heartbreak Meter: 2 of 5                  Romance Meter: 0 of 5
…but where is this Helena hookup going? *Raises eyebrow*
Neo Yokio is currently available on Netflix
2. Star Trek: Discovery Ep. 7 "Magic to Make the Sanest Man Go Mad"
Easily my favorite episode of the season, mutineer Michael Burhnam (Sonequa Martin-Green) finally finds her stride aboard the Discovery, just to be faced with perhaps her greatest challenge yet…social interaction.
I LOVE Michael Burnham for a number of reasons, chief of which, she's awkward as HELL.  Watching this girl in a party setting is the greatest blessing my new-found trekkie butt could have asked for.   
In this episode, a dire situation forces her to be honest with herself and the people around her, including her new crush, Ash Tyler (Shazad Latif).  She's faced with the admission that she's never known romantic love before and can't quite get it together.  But more is at stake than the state of her love life. Did I mention there's time travel involved?
Heartbreak Meter: 3                     Romance Meter: 5
Star Trek: Discovery is available on CBS Access.
3. Sailor Moon S The Movie: HEARTS IN ICE
Not quite the sailor choice you were expecting, but this one is at the top of my sailor list and I'll tell you why.  First of all, Luna (Keiko Han) is the unsung hero of Sailor Moon. We all know how many times she's saved Sailor Moon's (Kotono Mitsuishi) ass without so much as a day off not to mention Luna's clapbacks are the realest!
When in danger from being ran over, Luna is saved by Kakeru (Masami Kikuchi), a lovesick astronomer.  Homeboy gets all kinds of banged up saving Luna and even gives her his bed for the night to recuperate.  Receiving the ultimate respite, who could blame a girl (or cat) for falling in love, even if he is human? Top things off with Artemis's (Yasuhiro Takato) feelings for Luna and you've got a recipe for all nerds experiencing unrequited love.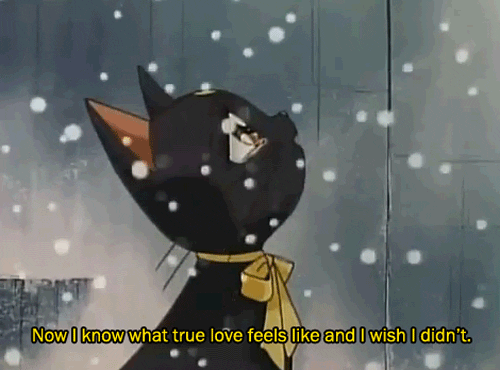 Heartbreak Meter: 5                         Romance Meter: 5
We love you, Luna!                                                                                                     
You can watch an English dubbed version here: 
4. Buffy: The Vampire Slayer Ep. 607 "Once More With Feeling"
Want vampire feels without the overrated sparkling of the Twilight Saga? Me too. This throwback is for all the nerds with musical tendencies.  "Once More With Feeling" is the musical of all musical episodes in my book.
A singing demon, named Sweet (Hinton Battle), uses his power to cause Sunnydale's inhabitants to burst into song and even dance to death. Confessions and revelations abound in this number with no shortage of love songs.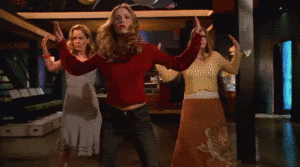 Heartbreak Meter: 5 (Say it ain't so, Willow!)          Romance Meter:  4
Buffy is now available on Hulu.
5. Stranger Things: Ep. 209 "The Gate"
Mike (Finn Wolfhard) and Eleven (Millie Bobby Brown) finally make it back to each other after 253 days!! That hug! The feels! Is it wrong to be shipping an adolescent couple this much?
In any event, the E.T. gang, re-incarnated, go their separate ways to kill monsters, set shit on fire, and save Will…again.  All leading to the Hawkins Middle School Snow Ball chock full of romantic moments. And "Time After Time" by Cyndi Lauper? Stop it.  
Also, this happened…
You're welcome.
Heartbreak Meter: 3            Romance Meter: 4
You can watch Stranger Things on Netflix.
6. Sense8 Ep. 201 "Happy F*cking New Year"
One of my favorite things about this show is the megaton of diverse representation we get.  A storyline incorporating eight individuals literally sharing each other's life experiences as they happen, makes for a wild and endearing ride emotionally.  Who can't get enough of Amenita (Freema Agyeman) and Nomi (Jamie Clayton)? Or the forbidden love of Kala (Tina Desai) and Wolfgang (Max Riemelt)? The challenges Lito (Miguel Ángel Silvestre) and Hernando (Alfonso Herrera) face as a newly, out couple in the public eye? And the never-ending depths of support between Will (Brian J. Smith) and Riley (Tuppence Middleton) during a particularly dark time?
There's much to unpack in this 2-hour episode.  With stunning visuals by the Wachowskis, action-packed scenes, and yes, that one controversial orgy scene, there's plenty of intellectual and intuitive stimulation to get you through the day.  
Heartbreak Meter: 4                 Romance Meter: 5
Sense8 is available on Netflix.
 BLACK MIRROR: Ep. 304 "San Junipero"
Like many stories in the Black Mirror anthology series, I spent a good half hour trying to figure out what the hell was going on in this episode. Time travel? Robot woman that doesn't bleed? Midnight cut-offs? Gothic/ fetish hangout? What is happening?!!
Commit past the initial confusion on this trippy rollercoaster and be treated to the sweetest love story between two ladies (arguably two people) ever! While providing 80s nostalgia and social commentary on the afterlife, San Junipero is the romantic gift that keeps on giving.  
Heartbreak Meter: 5           Romance Meter: Off the MF charts
Black Mirror is currently available on Netflix.